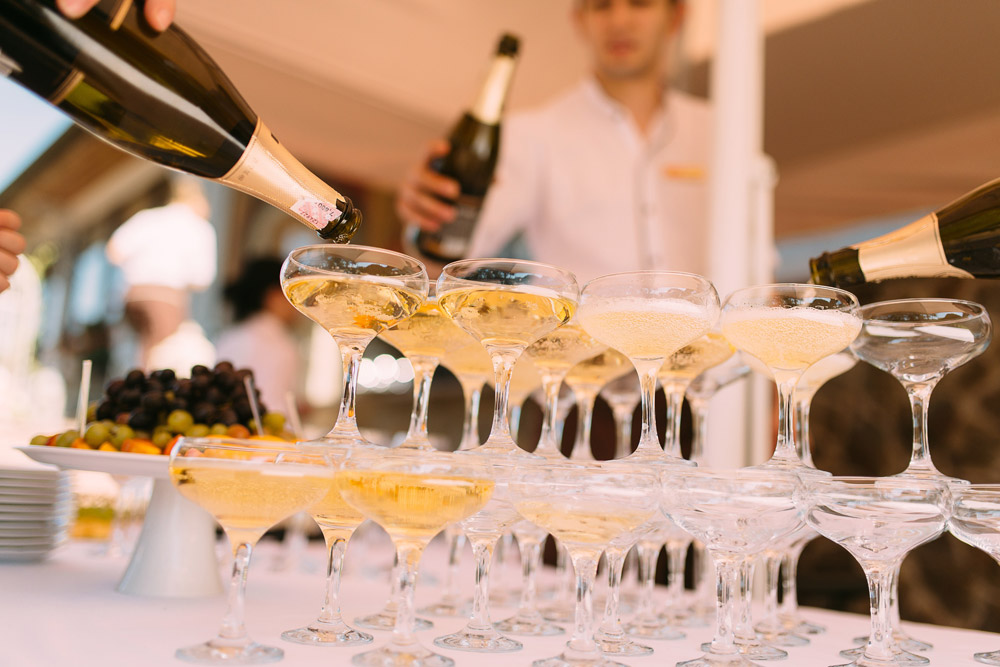 Let's say you found a stunning private party venue in Downtown San Diego that offers sweeping views of the city. After locating this wedding venue, you might wonder how to use it to its full potential. You'll find that you are already at an advantage by booking a private event space, as compared to a chain hotel. This is because a private venue gives you the ability to create an environment that matches your personality and style, rather than just adapting to the space as it is. If you are able to add your signature touch to your wedding venue, as well as tailor the look and feel to your specific event, your guests will be talking about your wedding long after the reception is over!
From our years of event planning experience, we've compiled a list of the most inspired, creative ways to make your wedding venue look outstanding.
Change Up Your Centerpieces
Trust us; it's time to upgrade your flowers. Of course, floral arrangements are timeless centerpieces, so you don't necessarily need to abandon them completely. Instead, try putting gold or silver bird cages over your flowers for a modern, avant-garde look. You can also encase your floral arrangements in upside-down glass vases for a terrarium-inspired feel. Even further, try placing your flowers on top of upside-down wine glasses of varying heights for a geometric, layered design. It's all about having fun and deciding what looks best in your choice of venue.
If you decide that you want flowers to be your focal point, take a unique approach and add balloons. You can attach any color balloon to your floral centerpiece. Silver and gold add elegance, while statement colors such as black and red can be matched to your linens and used to add a flair of drama. If you have artistic inclinations, it's easy to make your own gold-dipped balloons with liquid gold leaf. These offer a luxurious twist on the typical balloon, taking your wedding from beautiful to remarkable.
For more personalized centerpieces, don't be afraid to ditch the flowers completely. Instead, include something meaningful, such as chalkboards with you and your significant other's favorite song lyrics at each table. For a slightly more elegant yet just as personalized  approach, consider creating a centerpiece with black and white photographs of you and your significant other.
Personalized Menus
Initially, you might not put much thought into the appearance of the menu at your wedding. However, the menu offers you a great opportunity to display your personality. Do you prefer ravioli, while your significant other loves salmon? Consider creating His and Hers sections of the menu with illustrations to go along with the descriptions. All you need is a large chalkboard and some colorful chalk for a rustic feel, or a board and some gold paint for an elegant dining experience. There's no better way to create excitement among your guests and to show your individuality than to display this menu at the entrance to your wedding venue.
Light Up the Wedding Venue Dance Floor
A well-respected and experienced San Diego wedding company will help elevate your wedding from enjoyable to outstanding. This is because they know the importance of the guest experience. The best way to create an enticing atmosphere and fun environment is through lighting, specifically the lights on the dance floor. If your linens are varying shades of blue, try incorporating blue and purple lights. Or, let's say you want to complement the stunning colors created by the sunset on our unique outdoor deck. Why not opt for lighting in shades of red, orange, pink, and yellow? With the correct lighting, your guests will be dancing all night!
Creative Photo Backdrops
You'll want your special day to last forever, and what better way to preserve it than photographs? With a unique photo backdrop, you and your guests will have the perfect place to take pictures. Even further, this backdrop will double as a display piece, enhancing the overall appearance of your venue. To match flower centerpieces, create a wall of flowers or drape strings of flowers over linens that pair with your color scheme. For a backdrop infused with elegance, try draping small twinkling lights over layers of sheer fabric for a magical illusion.
Inspired Food Options
It's not just about the decorations; don't be afraid to get creative with your food options as well. If you have a wide variety of food preferences, try offering food from around the world with a station and a featured dish for each country. For seafood lovers, try a raw bar with displays of fresh oysters and various types of sushi. Additionally, have your guests get involved with interactive food options, such as a taco or nacho bar. They can customize their tacos, choosing their preference of meat, salsa, cheese, and, of course, guacamole. And when it comes to dessert, a candy bar or a doughnut wall display will be the perfect way to end your night.